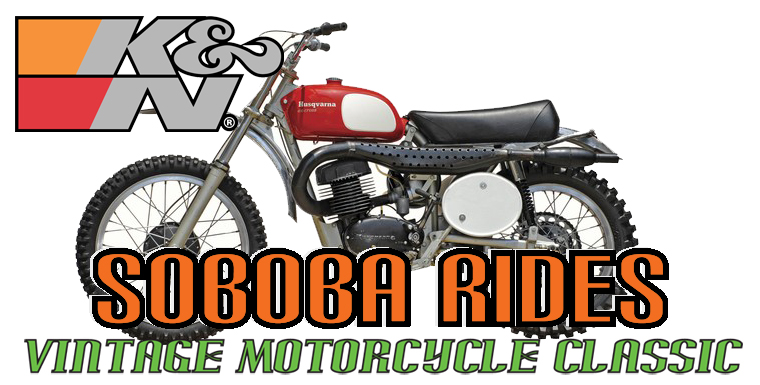 Once your entry is accepted you will get a confirmation letter in the mail!
February 26, 2017 - Rain or Shine. Vintage Trail Ride begins on special course after regular trail riders leave
GET YOUR MOTORCYCLE READY - Now that you've been accepted to display at this event, make sure your motorcycle is ready. If you are going to ride, verify that your motorcycle starts and runs easily and safely. Are the tires and chassis in good condition? Make sure that the exhaust is equipped with a USFS-approved spark arrestor and that it's not too loud. See page two of this letter for dealers that can aid you with parts or service
CHECK-IN - 6:00 AM - Check-in early to get your CLASSIC BIKE PLACARD, collector's ride decal and Helmet Start Sticker (if you will be riding the Vintage Trail Ride). At Check-in your entry will be verified off our master list - this permits you entrance to the reservation for the ride.
SOBOBA TRAIL RIDE OFFICIALS - Ride Officials will be wearing blaze-orange vests and are here to help you enjoy the event. These officials and the Check-in staff are volunteers so they deserve your cooperation and respect. Whether in the pits or on the trail, please follow the directions of a ride official
DISPLAY - A special area in the Trail Ride paddock will be set up for display of the classic motorcycles. At check-in, you will be provided a number placard to place on your motorcycle when you move it to the display area. This card will have your bike's class and number so the riders can vote for their favorite
CLASSES - There are three classes for vintage bikes; MX - Models specifically manufactured at least 25-years ago as motocross racing motorcycles, ENDURO - Models specifically manufactured at least 25-years ago as off-road or Dual Sport motorcycles, STREET - Models specifically manufactured at least 25-years ago as street legal (pavement-use only, not Dual Sport) motorcycles
AWARDS - Event sponsor will provide trophies for each class winner, plus other gifts and items will be provided by other Powersports-related supporting companies. Awards and gifts will be presented at the lunch break (after the first segment of the regular Trail Ride concludes).
LOOK AT AND VOTE - Take a look at the other classic motorcycles assembled in the paddock. Don't forget to vote for your favorite bike in the MX, Enduro or Street class (get your ballot at Check-In). Winners announced at lunch.
BREAKFAST - 6:00 AM - Breakfast and coffee will be available in the pits
APPLY YOUR START STICKER TO YOUR HELMET - Only riders with YELLOW 2017 OK START STICKERS will be allowed on the course for ANY riding
RIDER MEETING - 7:45 AM - There will be a mandatory Rider's Meeting for EVERYBODY just prior to the start of the Trail Ride. Important event information will be shared and your attendance is required. DON'T MISS this meeting!
NO CLASSIC BIKE ENGINES RUNNING UNTIL 8:50 AM - Please, do not start you motorcycle BEFORE 8:50 AM. Please respect the Soboba Reservation residents and their safety. Remember, they have permitted this event to be held based upon your courtesy and respect
CLASSIC TRAIL RIDE - The vintage bikes (MX and ENDURO class only with paid ride entry) will start and ride a special course that starts AFTER the regular Trail Ride participants have left. This course is planned to better suit the bikes, their fuel range to get to get rides back to the paddock before the lunch break. Support will be available at points along the course.
NO PIT BIKES or PIT RACING. All motorcycles must be pushed to and from the start/finish line (Ride Officials excluded)
NO ALCOHOLIC BEVERAGES
NO SPECTATORS - this is a rider-only event. No one is allowed through the gate unless you are a rider with a Confirmation Letter or have an approved Entry Form. Sorry, no spouses, significant others, buddies or pets (spouses, relatives and friends can enjoy the dining and fun of the Soboba Casino while you are out on the ride). Please don't embarrass yourself or us by bringing a spectator
BE PREPARED - Select the right gear for the conditions, carry water and basic tools, and ride at your own pace.
COURSE RULES - Most of the course is laid out with ribbons (vintage course ride ribbon colors will be announced at the rider meeting). Ride Officials will be stationed at certain check points to make sure you follow the course properly. DO NOT CUT THE COURSE - if you do so, you will be asked to leave. Ride Officials will be monitoring and sweeping the designated trails. This ride is for experienced riders only and honest participation is half the fun. Remember, the tribe allows use to ride on the designated trails ONLY and we are very serous about enforcing this rule
RIDE SMART - Use the buddy system for the ride and don't abandon your partner(s). Be ready to help one another if you get stuck on a tough hill or a difficult water crossing. If you cannot make a section of the trail, don't hurt yourself trying. STOP, rest a minute, collect yourself and your thoughts and take an easier path if you can. If you get tired, stop at the next check and ask a Ride Official for directions back to the pits via an easier route.
BE ALERT - Be aware and listen and look for other motorcycles on the trail. If you break down or injure yourself let someone know so they can advise the Ride Officials at the next check or in the pits. Stay where you are, don't stray from the designated course
SHARE THE TRAIL - Please bear in mind that the Soboba Reservation residents may be out on THEIR land, too. They also have cattle in some areas and these livestock have the right-of-way. BE COURTEOUS - we appreciate the use of their land
LUNCH BREAK - After the first loop there will be a lunch break. Food (Indian, American and Mexican fare) will be available. During this time Ride Officials will announce the start time for the optional (often more difficult) second loop. Classic Bike Show winners will be announced during the Lunch Break.
COMMEMORATIVE APPAREL - Don't forget that special Soboba apparel will be for sale
BE TIDY - Put trash in its proper place, in a trash can or pack-it-out
LOOK SHARP & BEHAVE - Press coverage, both print and electronic media, will be at the event.
THIS IS PRIVATE PROPERTY - NO RIDING HERE AT ANY OTHER TIME
Thank you - Bob Graziano
Supporting Dealer List
Malcolm Smith Motorsports

KTM, Honda, Kawasaki, Suzuki, Yamaha, Husquvarna, KYMCO, Can-Am, Aprilla

7599 Indiana Ave. Riverside CA 92504 Phone: (951) 687-1300 Fax: (951) 687-3819

www.malcolmsmithmotorsports.com

Optional sound testing of your motorcycle will be available at the Soboba Trail Ride

Courtesy of Chris Real of Chemhelp.

www.chemhelp.com


Want to get the family riding, or just be a better rider? Off-road motorcycle rider training is available…

Youth and entry-level training through the Motorcycle Safety Foundation DirtBike School

. www.dirtbikeschool.com

Advanced, TRIALS, youth and entry-level training available from MOTOVENTURES.

www.motoventures.com
To get on mailing list for future rides or ask entry confirmation questions, call 951-654-9436